O comitê organizador do
Eisner Awards
divulgou hoje a lista de indicados ao troféu este ano - em que o prêmio comemora um quarto de século. E a grande surpresa é que, diferente do ano passado, o prêmio vai dar pouca atenção à
DC
e à
Marvel Comics
, as líderes do mercado.
O nome que mais aparece nas indicações é da editora Fantagraphics, focada em material alternativo e novos autores. São 24 indicações, pulverizadas por vários projetos. Os de mais destaque são o terceiro volume da autobiografia You'll Never Know, de Carol Tyler (quatro indicações), Tales Designed to Thrizzle 2 de Michael Kupperman e Heads or Tails de Lilli Carré (duas indicações cada).
A Marvel aparece sobretudo com Hawkeye, de Matt Fraction, David Aja e Javier Pulido, com cinco indicações e uma proposta que destoa do resto da linha da editora. Também são líderes em indicações o já esperado Building Stories de Chris Ware e a série Fatale, de Ed Brubaker e Sean Phillips. Também tem cinco indicações, divididas entre vários projetos, o quadrinista multi-uso Brandon Graham, que concorre em melhor série, melhor republicação, melhor roteiro, melhor capista e melhor colorista.
Também estão em destaque a HQ do desenho animado Adventure Time (quatro indicações), a HQ digital Bandette (também quatro), a série Saga (três indicações) e a graphic novel The Hive, de Charles Burns (também três).
O painel de juízes deste ano, responsável pela lista, foi composto pelo crítico Michael Cavna, o lojista Adam Healy, os pesquisadores Charles Hatfield e Katie Monnin e o cartunista Frank Santoro. Eles optaram por tirar a categoria Melhor Minissérie e trazer de volta as categorias Melhor Nova Série, Melhor Adaptação de Outra Mídia e Melhor Pintor/Artista Multimídia. E também já selecionaram quem entra no Hall da Fama deste ano: Mort Meskin (1916-1995), desenhista da Era de Ouro, e Spain Rodriguez (1940-2012), cartunista underground falecido recentemente.
A revelação dos vencedores acontece no dia
19 de julho
, durane a Comic Con em San Diego. A votação, da qual participam profissionais da indústria de quadrinhos, acontece via digital no
http://www.eisnervote.com/
Com exceção de Hawkeye e de Demolidor, que concorre por melhor desenhista (Chris Samnee), vergonhosamente nenhum dos projetos indicados tem previsão para sair no Brasil. Confira a lista completa de indicados ao Eisner Awards 2013:
Melhor HQ Curta
"A Birdsong Shatters the Still," de Jeff Wilson e Ted May, em Injury #4 (Ted May/Alternative)
"Elmview" de Jon McNaught, em Dockwood (Nobrow)
"Moon 1969: The True Story of the 1969 Moon Launch," de Michael Kupperman, em Tales Designed to Thrizzle #8 (Fantagraphics)
"Moving Forward," de drewscape, em Monsters, Miracles, & Mayonnaise(Epigram Books)
"Rainbow Moment," de Lilli Carré, em Heads or Tails (Fantagraphics)
Melhor Edição (ou especial)
Lose #4: "The Fashion Issue," de Michael DeForge (Koyama Press)
The Mire, de Becky Cloonan (self-published)
Pope Hats #3, de Ethan Rilly (AdHouse Books)
Post York #1, de James Romberger e Crosby (Uncivilized Books)
Tales Designed to Thrizzle #8, de Michael Kupperman (Fantagraphics)
Melhor Série
Fatale, de Ed Brubaker e Sean Phillips (Image)
Hawkeye, de Matt Fraction e David Aja (Marvel)
The Manhattan Projects, de Jonathan Hickman e Nick Pitarra (Image)
Prophet, de Brandon Graham e Simon Roy (Image)
Saga, de Brian K. Vaughan e Fiona Staples (Image)
Melhor Nova Série
Adventure Time, de Ryan North, Shelli Paroline e Braden Lamb (kaboom!)
Bandette, de Paul Tobin e Colleen Coover (Monkeybrain)
Fatale, de Ed Brubaker e Sean Phillips (Image)
Hawkeye, de Matt Fraction e David Aja (Marvel)
Saga, de Brian K. Vaughan e Fiona Staples (Image)
Melhor publicação para crianças (até 7 anos)
Babymouse for President, de Jennifer L. Holm e Matthew Holm (Random House)
Benny and Penny in Lights Out, de Geoffrey Hays (Toon Books/Candlewick)
Kitty & Dino, de Sara Richard (Yen Press/Hachette)
Maya Makes a Mess, de Rutu Modan (Toon Books/Candlewick)
Zig and Wikki in The Cow, de Nadja Spiegelman e Trade Loeffler (Toon Books/Candlewick)
Melhor publicação para crianças (8 a 12 anos)
Adventure Time, de Ryan North, Shelli Paroline e Braden Lamb (kaboom!)
Amulet Book 5: Prince of the Elves, de Kazu Kibuishi (Scholastic)
Cow Boy: A Boy and His Horse, de Nate Cosby e Chris Eliopoulos (Archaia)
Crogan's Loyalty, de Chris Schweizer (Oni)
Hilda and the Midnight Giant, de Luke Pearson (Nobrow)
Road to Oz, de L. Frank Baum, adaptado por Eric Shanower e Skottie Young (Marvel)
Melhor publicação para jovens (13 a 17 anos)
Adventure Time: Marceline and the Scream Queens, de Meredith Gran (kaboom!)
Annie Sullivan and the Trials of Helen Keller, de Joseph Lambert (Center for Cartoon Studies/Disney Hyperion)
Ichiro, de Ryan Inzana (Houghton Mifflin)
Spera, vol. 1, de Josh Tierney et al. (Archaia)
A Wrinkle in Time, de Madeleine L'Engle, adaptado por Hope Larson (FSG)
Melhor Publicaçãode Humor
Adventure Time, de Ryan North, Shelli Paroline e Braden Lamb (kaboom!)
BBXX: Baby Blues Decades 1 & 2, de Jerry Scott e Rick Kirkman (Andrews McMeel)
Darth Vader and Son, de Jeffrey Brown (Chronicle)
Naked Cartoonists, edited de Gary Groth (Fantagraphics)
Melhor HQ Digital
Melhor Antologia
Dark Horse Presents, editada por Mike Richardson (Dark Horse)
No Straight Lines: Four Decades of Queer Comics, editada por Justin Hall (Fantagraphics)
Nobrow #7: Brave New World, editada por Alex Spiro e Sam Arthur (Nobrow)
2000 AD, editada por Matt Smith (Rebellion)
Where Is Dead Zero?, editada por Jeff Ranjo (Where Is Dead Zero?)
Melhor Obra Baseada em Fatos
Annie Sullivan and the Trials of Helen Keller, de Joseph Lambert (Center for Cartoon Studies/Disney Hyperion)
The Carter Family: Don't Forget This Song, de Frank M. Young e David Lasky (Abrams ComicArts)
A Chinese Life, de Li Kunwu e P. Ôtié (Self Made Hero)
The Infinite Wait and Other Stories, de Julia Wertz (Koyama Press)
Marbles: Mania, Depression, Michelangelo & Me, de Ellen Forney (Gotham Books)
You'll Never Know, Book 3: A Soldier's Heart, de C. Tyler (Fantagraphics)
Melhor Álbum Gráfico - Inédito
Building Stories, de Chris Ware (Pantheon)
Goliath, de Tom Gauld (Drawn & Quarterly)
The Hive, de Charles Burns (Pantheon)
Unterzakhn, de Leela Corman (Schocken)
You'll Never Know, Book 3: A Soldier's Heart, de C. Tyler (Fantagraphics)
Melhor Adaptação de Outra Mídia
Chico and Rita, de Fernando Trueba e Javier Mariscal (Self Made Hero)
Homer's Odyssey, adaptado por Seymour Chwast (Bloomsbury)
Richard Stark's Parker: The Score, adaptado por Darwyn Cooke (IDW)
Road to Oz, de L. Frank Baum, adaptado por Eric Shanower e Skottie Young (Marvel)
A Wrinkle in Time, de Madeleine L'Engle, adaptado por Hope Larson (FSG)
Melhor Álbum Gráfico - Republicação
Cruisin' with the Hound, de Spain (Fantagraphics)
Ed the Happy Clown, de Chester Brown (Drawn & Quarterly)
Everything Together: Collected Stories, de Sammy Harkham (PictureBox)
Heads or Tails, de Lilli Carré (Fantagraphics)
King City, de Brandon Graham (TokyoPop/Image)
Sailor Twain, or The Mermaid in the Hudson de Mark Siegel (First Second)
Melhor Projeto/Coleção Arquivo - Tiras
Alex Raymond's Flash Gordon and Jungle Jim, vol. 2, editada por Dean Mullaney (IDW/Library of American Comics)
Mister Twee Deedle: Raggedy Ann's Sprightly Cousin, de Johnny Gruelle, editada por Rick Marschall (Fantagraphics)
Percy Crosby's Skippy, vol. 1, editada por Jared Gardner e Dean Mullaney (IDW/Library of American Comics)
Pogo, vol. 2: Bona Fide Balderdash, de Walt Kelly, editada por Carolyn Kelly e Kim Thompson (Fantagraphics)
Roy Crane's Captain Easy: The Complete Sunday Newspaper Strips, vol. 3, editada por Rick Norwood (Fantagraphics)
Melhor Projeto/Coleção Arquivo – Revistas em Quadrinhos
Crime Does Not Pay Archives, editada por Philip Simon e Kitchen, Lind & Associates (Dark Horse)
David Mazzucchelli's Daredevil Born Again: Artist's Edition, editada por Scott Dunbier (IDW)
Wally Wood's EC Stories: Artist's Edition, editada por Scott Dunbier (IDW)
Walt Disney's Uncle Scrooge: Only a Poor Old Man, de Carl Barks, editada por Gary Groth (Fantagraphics)
Young Romance: The Best of Simon & Kirby's Romance Comics, editada por Michel Gagné (Fantagraphics)
Melhor Edição Estadunidense de Material Estrangeiro
Abelard, de Régis Hautiere e Renaud Dillies (NBM)
Athos in America, de Jason (Fantagraphics)
Blacksad: Silent Hell, de Juan Diaz Canales e Juanjo Guarnido (Dark Horse)
The Making of, de Brecht Evens (Drawn & Quarterly)
Monsieur Jean: The Singles Theory, de Philippe Dupuy e Charles Berberian (Humanoids)
New York Mon Amour, de Benjamin LeGrand, Dominique Grange e Jacques Tardi (Fantagraphics)
Melhor Edição Estadunidense de Material Estrangeiro - Ásia
Barbara, de Osamu Tezuka (Digital Manga)
A Chinese Life, de Li Kunwu e P. Ôtié (Self Made Hero)
Naoki Urasawa's 20th Century Boys, de Naoki Urasawa (VIZ Media)
Nonnonba, de Shigeru Mizuki (Drawn & Quarterly)
Thermae Romae, de Mari Yamazaki (Yen Press/Hachette)
Melhor Escritor
Ed Brubaker, Fatale (Image)
Matt Fraction, Hawkeye (Marvel); Casanova: Avaritia (Marvel Icon)
Brandon Graham, Multiple Warheads, Prophet (Image)
Jonathan Hickman, The Manhattan Projects (Image)
Brian K. Vaughan, Saga (Image)
Frank M. Young, The Carter Family (Abrams ComicArts)
Melhor Escritor/Ilustrador
Charles Burns, The Hive (Pantheon)
Gilbert Hernandez, Love and Rockets New Stories, vol. 5 (Fantagraphics)
Jaime Hernandez, Love and Rockets New Stories, vol. 5 (Fantagraphics)
Luke Pearson, Hilda and the Midnight Giant, Everything We Miss (Nobrow)
C. Tyler, You'll Never Know, Book 3: A Soldier's Heart (Fantagraphics)
Chris Ware, Building Stories (Pantheon)
Melhor Desenhista/Arte-Finalista
David Aja, Hawkeye (Marvel)
Becky Cloonan, Conan the Barbarian (Dark Horse); The Muse (self-published)
Colleen Coover, Bandette (Monkeybrain)
Sean Phillips, Fatale (Image)
Joseph Remnant, Harvey Pekar's Cleveland (Zip Comics/Top Shelf)
Chris Samnee, Daredevil (Marvel); Rocketeer: Cargo of Doom (IDW)
Melhor Pintor/Artista Multimídia (páginas internas)
Brecht Evens, The Making Of (Drawn & Quarterly)
Juanjo Guarnido, Blacksad (Dark Horse)
Teddy Kristiansen, The Red Diary/The RE[a]D Diary (MAN OF ACTION/Image)
Lorenzo Mattotti, The Crackle of the Frost (Fantagraphics)
Katsuya Terada, The Monkey King vol. 2 (Dark Horse)
Melhor Capista
David Aja, Hawkeye (Marvel)
Brandon Graham, King City, Multiple Warheads, Elephantmen #43 (Image)
Sean Phillips, Fatale (Image)
Yuko Shimizu, The Unwritten (Vertigo/DC)
J, H. Williams III, Batwoman (DC)
Melhor Colorista
Charles Burns, The Hive (Pantheon)
Colleen Coover, Bandette (Monkeybrain)
Brandon Graham, Multiple Warheads (Image)
Dave Stewart, Batwoman (DC); Fatale (Image); BPRD, Conan the Barbarian, Hellboy in Hell, Lobster Johnson, The Massive (Dark Horse)
Chris Ware, Building Stories (Pantheon)
Melhor Letreirista
Paul Grist, Mudman (Image)
Troy Little, Angora Napkin 2: Harvest of Revenge (IDW)
Joseph Remnant, Harvey Pekar's Cleveland (Zip Comics/Top Shelf)
C. Tyler, You'll Never Know, Book 3: A Soldier's Heart (Fantagraphics)
Chris Ware, Building Stories (Pantheon)
Melhor Jornalismo Relacionado a Quadrinhos
Alter Ego, editado por Roy Thomas (TwoMorrows)
ComicsAlliance, editado por Joe Hughes, Caleb Goellner e Andy Khouri
The Comics Reporter, editado por Tom Spurgeon
Robot Six, produzido pelo Comic Book Resources
tcj.com, editado por Timothy Hodler e Dan Nadel (Fantagraphics)
Melhor Livro Relacionado a Quadrinhos
The Art of Daniel Clowes: Modern Cartoonist, editado por Alvin Buenaventura (Abrams ComicArts)
Marie Severin: The Mirthful Mistress of Comics, de Dewey Cassell (TwoMorrows)
Marvel Comics: The Untold Story, de Sean Howe (HarperCollins)
Mastering Comics, de Jessica Abel e Matt Madden (First Second)
Team Cul De Sac: Cartoonists Draw the Line at Parkinson's, editado por Chris Sparks (Andrews McMeel)
Woodwork: Wallace Wood 1927–1981, editado por Frédéric Manzano (CasalSolleric/IDW)
Melhor Obra Educacional/Acadêmica
Autobiographical Comics: Life Writing in Pictures, de Elisabeth El Refaie (University Press of Mississippi)
Comics Versus Art, de Bart Beaty (University of Toronto Press)
Crockett Johnson & Ruth Krauss: How an Unlikely Couple Found Love, Dodged the FBI, and Transformed Children's Literature, de Philip Nel (University Press of Mississippi)
Lynda Barry: Girlhood Through the Looking Glass, de Susan E. Kirtley (University Press of Mississippi)
The Poetics of Slumberland, de Scott Bukatman (University of California Press)
Melhor Design de Publicação
Building Stories, designed de Chris Ware (Pantheon)
Dal Tokyo, design de Gary Panter e Family Sohn (Fantagraphics)
David Mazzucchelli's Daredevil Born Again: Artist's Edition, design de Randy Dahlk (IDW)
Mister Twee Deedle: Raggedy Ann's Sprightly Cousin, design de Tony Ong (Fantagraphics)
Wizzywig, design de Ed Piskor e Chris Ross (Top Shelf)
Hawkeye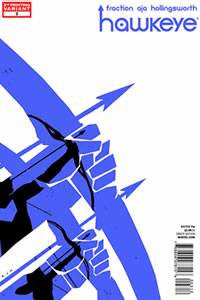 Building Stories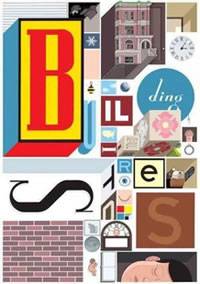 Fatale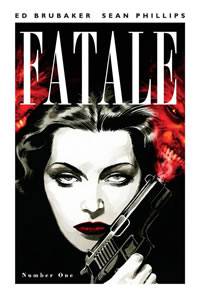 Tales Designed to Thrizzle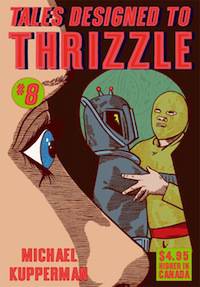 Tales Designed to Thrizzle
Eisner Awards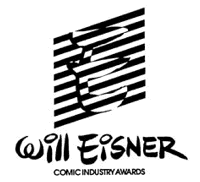 You Will Never Know