Foram divulgados os vencedores do Grammy 2014, edição de número 56 do maior prêmio da indústria fonográfica dos Estados Unidos. A cerimônia é realizada em Los Angeles.
grammy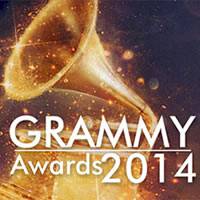 O grande vencedor da noite foi a dupla francesa Daft Punk, que levou cinco prêmios, entre eles Melhor Gravação ("Get Lucky") e Melhor Álbum (Random Access Memories). Lorde também foi destaque com Melhor Performance Pop Solo e Melhor Canção do Ano com "Royals".
Na lista abaxo, confira os indicados e em negrito os vencedores:
ÁLBUM DO ANO
Good Kid, M.A.A.D. City - Kendrick Lamar
Random Access Memories - Daft Punk
The Blessed Unrest - Sara Bareilles
The Heist - Macklemore & Ryan Lewis
Red - Taylor Swift
MELHOR COLABORAÇÃO DE RAP
Jay Z e Justin Timberlake - "Holy Grail"
MELHOR VIDEOCLIPE
Justin Timberlake e Jay Z - "Suit and Tie"
MELHOR MÚSICA PARA MÍDIA VISUAL
Adele - "Skyfall"
MELHOR TRILHA SONORA PARA MÍDIA VISUAL
Butch Vig - Sound City: Real to Reel
PRODUTOR DO ANO
Pharrell Williams
MELHOR FILME DE MÚSICA
Paul McCartney - "Live Kisses"
CANÇÃO DO ANO
"Just Give Me A Reason" - P!nk e Nate Ruess
"Locked Out Of Heaven" - Bruno Mars
"Roar" - Katy Perry
"Royals" - Lorde
"Same Love" - Macklemore & Ryan Lewis
MELHOR PERFORMANCE POP DE DUO OU DUPLA
"Get Lucky" - Daft Punk e Pharrell
"Just Give Me A Reason" - P!nk e Nate Ruess
"Stay" - Rihanna e Mikky Ekko
"Blurred Lines" - Robin Thicke e T.I. com Pharrell
"Suit & Tie" - Justin Timberlake e Jay-Z
MELHOR ÁLBUM COUNTRY
Night Train - Jason Aldean
Two Lanes of Freedom - Tim McGraw
Same Trailer Different Park - Kacey Musgraves
Based on a True Story - Blake Shelton
Red - Taylor Swift
ARTISTA REVELAÇÃO
James Blake
Kendrick Lamar
Macklemore & Ryan Lewis
Kasey Musgraves
Ed Sheeran
SINGLE DO ANO
"Get Lucky" - Daft Punk e Pharrell
"Radioactive" - Imagine Dragons
"Royals" - Lorde
"Locked Out Of Heaven" - Bruno Mars
"Blurred Lines" - Robin Thicke e T.I. com Pharrell
MELHOR APRESENTAÇÃO SOLO POP
"Brave" - Sara Bareilles
"Royals" - Lorde
"When I Was Your Man" - Bruno Mars
"Roar" - Katy Perry
"Mirrors" - Justin Timberlake
MELHOR ÁLBUM INSTRUMENTAL POP
Steppin' Out - Herb Alpert
The Beat - Boney James
Handpicked - Earl Klugh
Summer Horns - Dave Koz, Gerald Albright, Mindi Abair & Richard Elliot
Hacienda - Jeff Lorber Fusion
MELHOR ÁLBUM VOCAL POP
Paradise - Lana Del Rey
Pure Heroine - Lorde
Unorthodox Jukebox - Bruno Mars
Blurred Lines - Robin Thicke
The 20/20 Experience - The Complete Experience - Justin Timberlake
MELHOR CANÇÃO DE DANCE
"Need U (100%)" - Duke Dumont apresentando A*M*E & MNEK
"Sweet Nothing" - Calvin Harris apresentando Florence Welch
"Atmosphere" - Kaskade
"This Is What It Feels Like" - Armin Van Buuren apresentando Trevor Guthrie
"Clarity" - Zedd apresentando Foxes
MELHOR ÁLBUM DE MÚSICA ELETRÔNICA/DANCE
Random Access Memories - Daft Punk
Settle - Disclosure
18 Months - Calvin Harris
Atmosphere - Kaskade
A Color Map Of The Sun - Pretty Lights
MELHOR ÁLBUM POP VOCAL TRADICIONAL
Viva Duets - Tony Bennett & Various Artists
To Be Loved - Michael Bublé
The Standards - Gloria Estefan
Cee Lo's Magic Moment - Cee Lo Green
Now - Dionne Warwick
MELHOR APRESENTAÇÃO DE ROCK
"Always Alright" - Alabama Shakes
"The Stars (Are Out Tonight)" - David Bowie
"Radioactive" - Imagine Dragons
"Kashmir" - Led Zeppelin
"My God Is The Sun" - Queens Of The Stone Age
"I'm Shakin" - Jack White
MELHOR APRESENTAÇÃO DE METAL
"T.N.T." - Anthrax
"God Is Dead?" - Black Sabbath
"The Enemy Inside" - Dream Theater
"In Due Time" - Killswitch Engage
"Room 24" - Volbeat apresentando King Diamond
MELHOR CANÇÃO DE ROCK
"Ain't Messin 'Round" - Gary Clark Jr.
"Cut Me Some Slack" - Dave Grohl, Paul McCartney, Krist Novoselic & Pat Smear
"Doom And Gloom" - The Rolling Stones
"God Is Dead?" - Black Sabbath
"Panic Station" - Muse
MELHOR ÁLBUM DE ROCK
13 - Black Sabbath
The Next Day - David Bowie
Mechanical Bull - Kings Of Leon
Celebration Day - Led Zeppelin
...Like Clockwork - Queens Of The Stone Age
Psychedelic Pill - Neil Young With Crazy Horse
MELHOR ÁLBUM DE MÚSICA ALTERNATIVA
The Worse Things Get, The Harder I Fight, The Harder I Fight, The More I Love You - Neko Case
Trouble Will Find Me - The National
Hesitation Marks - Nine Inch Nails
Lonerism - Tame Impala
Modern Vampires Of The City - Vampire Weekend
MELHOR PERFORMANCE DE R&B
"Love And War" - Tamar Braxton
"Best Of Me" - Anthony Hamilton
"Nakamarra" - Hiatus Kaiyote apresentando Q-Tip
"How Many Drinks?" - Miguel apresentando Kendrick Lamar
"Something" - Snarky Puppy com Lalah Hathaway
MELHOR PERFORMANCE TRADICIONAL DE R&B
"Please Come Home" - Gary Clark Jr.
"Get It Right" - Fantasia
"Quiet Fire" - Maysa
"Hey Laura" - Gregory Porter
"Yesterday" - Ryan Shaw
MELHOR CANÇÃO DE R&B
"Best Of Me" - Anthony Hamilton & Jairus Mozee, compositores; Anthony Hamilton, intérprete
"Love And War" - Tamar Braxton, Darhyl Camper, Jr., LaShawn Daniels & Makeba Riddick, compositores; Tamar Braxton, intérprete
"Only One" - PJ Morton, compositor; PJ Morton apresentando Stevie Wonder, intérpretes
"Pusher Love Girl" - James Fauntleroy, Jerome Harmon, Timothy Mosley & Justin Timberlake, compositores; Justin Timberlake, intérprete
"Without Me" - Fantasia Barrino, Missy Elliott, Al Sherrod Lambert, Harmony Samuels & Kyle Stewart, compositores; Fantasia apresentando Kelly Rowland & Missy Elliot, intérpretes
MELHOR ÁLBUM URBANO CONTEMPORÂNEO
Love And War - Tamar Braxton
Side Effects Of You - Fantasia
One: In The Chamber - Salaam Remi
Unapologetic - Rihanna
New York: A Love Story - Mack Wilds
MELHOR ÁLBUM DE R&B
R&B Divas - Faith Evans
Girl On Fire - Alicia Keys
Love In The Future - John Legend
Better - Chrisette Michele
Three Kings - TGT
MELHOR PERFORMANCE DE RAP
"Started From The Bottom" - Drake
"Berzerk" - Eminem
"Tom Ford" - Jay-Z
"Swimming Pools (Drank)" - Kendrick Lamar
"Thrift Shop" - Ben Haggerty & Ryan Lewis, compositores; Macklemore & Ryan Lewis com Wanz
MELHOR COLABORAÇÃO DE RAP
"Thrift Shop" - Ben Haggerty & Ryan Lewis, compositores; Macklemore & Ryan Lewis com Wanz
MELHOR CANÇÃO DE RAP
"F***in' Problems" - Tauheed Epps, Aubrey Graham, Kendrick Lamar, Rakim Mayers & Noah Shebib, compositores; ASAP Rocky apresentando Drake, 2 Chainz & Kendrick Lamar; intérpretes
"Holy Grail" - Shawn Carter, Terius Nash, J. Harmon, Timothy Mosley, Justin Timberlake & Ernest Wilson, compositores; Kurt Cobain, Dave Grohl & Krist Novoselic, compositores; Jay-Z apresentando Justin Timberlake; intérpretes
"New Slaves" - Christopher Breaux, Ben Bronfman, Mike Dean, Louis Johnson, Malik Jones, Elon Rutberg, Sakiya Sandifer, Che Smith, Kanye West & Cydell Young, compositores; Anna Adamis & Gabor Presser, compositores; Kanye West, intérprete
"Started From The Bottom" - W. Coleman, Aubrey Graham & Noah Shebib, compositores; Bruno Sanfilippo, compositor; Drake, intérprete
"Thrift Shop" - Ben Haggerty & Ryan Lewis, compositores; Macklemore & Ryan Lewis com Wanz
MELHOR ÁLBUM DE RAP
Nothing Was The Same - Drake
Magna Carta...Holy Grail - Jay Z
Good Kid, M.A.A.D City - Kendrick Lamar
The Heist - Macklemore & Ryan Lewis
Yeezus - Kanye West
MELHOR PERFORMANCE SOLO COUNTRY
"I Drive Your Truck" - Lee Brice
"I Want Crazy" - Hunter Hayes
"Mama's Broken Heart" - Miranda Lambert
"Wagon Wheel" - Darius Rucker
"Mine Would Be You" - Blake Shelton
MELHOR PERFOMANCE COUNTRY EM DUO OU GRUPO
"From This Valley" - The Civil Wars
"Don't Rush" - Kelly Clarkson apresentando Vince Gill
"Your Side Of The Bed" - Little Big Town
"Highway Don't Care" - Tim McGraw, Taylor Swift & Keith Urban
"You Can't Make Old Friends" - Kenny Rogers com Dolly Parton
MELHOR CANÇÃO COUNTRY
"Begin Again" - Taylor Swift
"I Drive Your Truck" - Jessi Alexander, Connie Harrington & Jimmy Yeary, compositores; Lee Brice, intérprete
"Mama's Broken Heart" - Brandy Clark, Shane McAnally & Kacey Musgraves, compositores; Miranda Lambert, intérprete
"Merry Go 'Round" - Shane McAnally, Kacey Musgraves & Josh Osborne, compositores; Kacey Musgraves, intérprete
"Mine Would Be You" - Jessi Alexander, Connie Harrington & Deric Ruttan, compositores; Blake Shelton, intérprete
MELHOR ÁLBUM DE NEW AGE
Lux - Brian Eno
Illumination - Peter Kater
Final Call - Kitaro
Awakening The Fire - R. Carlos Nakai & Will Clipman
Love's River - Laura Sullivan
MELHOR ÁLBUM VOCAL DE JAZZ
The World According To Andy Bey - Andy Bey
Lorraine Feather - Selo: Jazzed Media
Liquid Spirit - Gregory Porter
WomanChild - Cécile McLorin Salvant
After Blue - Tierney Sutton
MELHOR ÁLBUM DE JAZZ INSTRUMENTAL
Guided Tour - The New Gary Burton Quartet
Money Jungle: Provocative In Blue - Terri Lyne Carrington
Life Forum - Gerald Clayton
Pushing The World Away - Kenny Garrett
Out Here - Christian McBride Trio
MELHOR ÁLBUM CONJUNTO DE JAZZ
Brooklyn Babylon - Darcy James Argue's Secret Society
Night In Calisia - Randy Brecker, Wodek Pawlik Trio & Kalisz Philharmonic
Wild Beauty - Brussels Jazz Orchestra Featuring Joe Lovano
March Sublime - Alan Ferber
Intrada - Dave Slonaker Big Band
MELHOR ÁLBUM LATINO DE JAZZ
La Noche Más Larga - Buika
Song For Maura - Paquito D'Rivera e Trio Corrente
Yo - Roberto Fonseca
Egg_n - Omar Sosa
Latin Jazz-Jazz Latin - Wayne Wallace Latin Jazz Quintet