A lista de indicados ao Harvey Awards, segundo prêmio mais importante dos quadrinhos nos EUA (depois do Eisner), foi anunciada ontem. E, assim como em 2008, 2009 e 2010, tem brasileiros indicados.
FF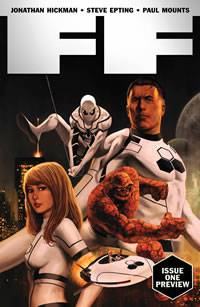 Echo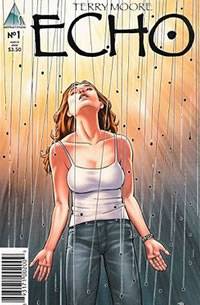 Gutters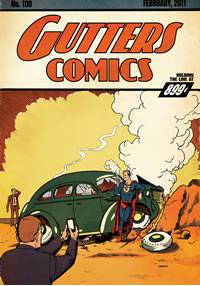 American Vampire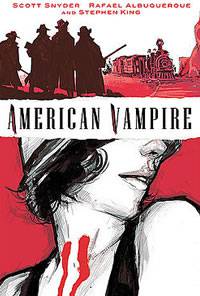 Chew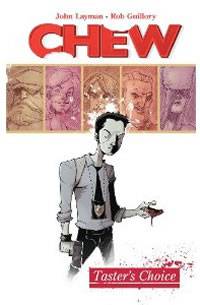 Daytripper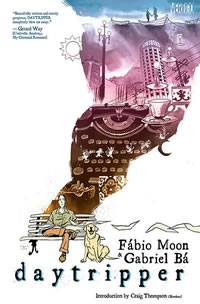 Os gêmeos Fábio Moon e Gabriel Bá concorrem com Daytripper nas categorias Melhor Edição ou História e Melhor Série ou Minissérie (Bá já ganhou prêmios em 2008 e 2009). Rafael Albuquerque participa da indicação de Vampiro Americano em Melhor Nova Série. O interessante é que as indicações basicamente repetem as mesmas que os autores receberam no Eisner Awards deste ano.
(E Rafael Grampá, mesmo que não esteja mencionado, é o destaque de Strange Tales II, indicada em Melhor Antologia.)
O grande indicado da premiação é Gutters, HQ online que faz paródia da indústria de quadrinhos dos EUA, capitaneada por Ryan Sohmer. São seis indicações - e tem várias outras HQs online dispersas na lista.
Logo depois, Richard Stark's Parker: The Outfit, segunda das graphic novels em que Darwyn Cooke adapta os romances policiais estilosos de Donald Westlake, vem com cinco indicações. Thor: The Mighty Avenger, série que gerou protestos quando a Marvel anunciou o cancelamento, também é lembrada com quatro indicações.
A imensa maioria do material, porém, continua inédita no Brasil.
Os vencedores serão revelados entre 20 e 21 de agosto, durante a Baltimore Comic-Con. Segue a lista:
Melhor escritor
Cullen Bunn, SIXTH GUN, Oni Press
Joshua Hale Fialkov, ECHOES, Top Cow
Roger Langridge, THOR: THE MIGHTY AVENGER, Marvel Comics
Ryan Sohmer, GUTTERS, http://www.the-gutters.com
Mark Waid, IRREDEEMABLE, BOOM! Studios

 

Melhor artista
Darwyn Cooke, RICHARD STARK'S PARKER: THE OUTFIT, IDW
Dean Haspiel, CUBA : MY REVOLUTION, Vertigo/DC Comics
Brian Hurtt, SIXTH GUN, Oni Press
Ed Ryzowski, GUTTERS, http://www.the-gutters.com
Chris Samnee, THOR: THE MIGHTY AVENGER, Marvel Comics

 

Melhor cartunista
Darwyn Cooke, RICHARD STARK'S PARKER: THE OUTFIT, IDW
Jaime Hernandez, LOVE AND ROCKETS, Fantagraphics
Jeff Lemire, SWEET TOOTH, Vertigo/DC Comics
Bryan Lee O'Malley, SCOTT PILGRIM'S FINEST HOUR, Oni Press
Jeff Smith, RASL, Cartoon Books

 

Melhor letreirista
Scott Brown, BOX 13, http://www.comixology.com e Red 5 Comics
Darwyn Cooke, RICHARD STARK'S PARKER: THE OUTFIT, IDW
Dustin Harbin, CASANOVA, Image Comics
Troy Peteri, WITCHBLADE, Top Cow
Robbie Robbins, LOCKE & KEY: KEYS TO THE KINGDOM # 1, IDW
John Workman, THOR, Marvel Comics

 

Melhor arte-finalista
Damian Couceiro, HAWKS OF OUTREMER, BOOM! Studios
Steve Ellis, BOX 13, http://www.comixology.com & Red 5 Comics
Gabriel Hardman, AGENTS OF ATLAS, Marvel Comics
Mark Morales, THOR, Marvel Comics
Sal Regla, MAGDALENA, Top Cow

 

Melhor colorista
Veronica Gandini, MICE TEMPLAR: VOLUME 10, Image Comics
Laura Martin, THE STAND, Marvel Comics
Ed Ryzowski, GUTTERS, http://www.the-gutters.com
Dave Stewart, BPRD, Dark Horse Comics
Jose Villarrubia, CUBA : MY REVOLUTION, Vertigo/DC Comics

 

Melhor capista
Darwyn Cooke, RICHARD STARK'S PARKER: THE OUTFIT, IDW
Jenny Frison, ANGEL, IDW
Marcos Martin, AMAZING SPIDER-MAN, Marvel Comics
Mike Mignola, HELLBOY, Dark Horse Comics
Frank Quitely, BATMAN AND ROBIN, DC Comics

 

Melhor novo talento
Barry Deutsch, HEREVILLE: HOW MIRKA GOT HER SWORD, Amulet Books
Comfort Love e Adam Withers, RAINBOW IN THE DARK, http://www.RainbowintheDarkComic.com
Chris Samnee, THOR: THE MIGHTY AVENGER, Marvel Comics
Scott Snyder, AMERICAN VAMPIRE, Vertigo/DC Comics
Nick Spencer, MORNING GLORIES, Image Comics

 

Melhor nova série
AMERICAN VAMPIRE, Scott Snyder, Stephen King e Rafael Albuquerque, Vertigo/DC Comics
ECHOES, Joshua Hale Fialkov e Rashan Ekedal, Top Cow
GUTTERS, Lar deSouza, Ed Ryzoski e Ryan Sohmer, http://www.the-gutters.com
KILL SHAKESPEARE, Anthony Del Col e Conor McCreery, IDW
SIXTH GUN, Cullen Bunn e Brian Hurtt, Oni Press
THOR: THE MIGHTY AVENGER, Roger Langridge e Chris Samnee, Marvel Comics

 

Melhor série ou minissérie
CHEW, John Layman e Rob Guillory, Image Comics
DAYTRIPPER, Fabio Moon e Gabriel Ba, Vertigo/DC Comics
ECHO, Terry Moore, Abstract Studio
FANTASTIC FOUR, Jonathan Hickman e Dale Eaglesham, Marvel Comics
LOCKE & KEY: KEYS TO THE KINGDOM # 1, Joe Hill and Gabriel Rodriquez, IDW
LOVE AND ROCKETS: VOLUME 3, Jaime e Gilbert Hernandez, Fantagraphics

 

Melhor publicação original para jovens
AMULET # 3: THE CLOUD SEARCHER, Kazu Kibuishi, Graphix
JINGLE BELLE, Paul Dini, http://www.jinglebelle.com/
MEANWHILE: PICK ANY PATH. 3856 STORY POSSIBILITIES, Jason Shiga, Amulet Books
READING WITH PICTURES, Josh Elder, Executive Editor, Reading With Pictures
SMILE, Raina Telgemeier, Scholastic Graphix
TINY TITANS, Art Baltazar e Franco Aureliani, DC Comics

 

Melhor antologia
BLAB WORLD #1, Monte Beauchamp e Bill North, Last Gasp
CBGB, Kieron Gillen e Stan Humphries, BOOM! Studios
POPGUN # 4, edição por D.J. Kirkbride, Anthony Wu e Adam P. Knave, Image Comics
READING WITH PICTURES, Josh Elder, Executive Editor, Reading With Pictures
STRANGE TALES, VOLUME II # 1, edição por Jody LeHeup, Marvel Comics
UNIQUES TALES, Tanya Eby e Mallette Pagano, http://www.uniquescomic.com

 

Melhor graphic novel original
DUNCAN, THE WONDER DOG, Adam Hines, AdHouse Books
MARKET DAY, James Sturm, Drawn and Quarterly
SCOTT PILGRM VOLUME 6: SCOTT PILGRIM'S FINEST HOUR, Bryan Lee O'Malley, Oni Press
WILSON, Dan Clowes, Drawn and Quarterly
X'ED OUT, Charles Burns, Pantheon

 

Melhor graphic novel - republicação
ART IN TIME, edited Dan Nadel, Abrams ComicArts
BEASTS OF BURDEN: ANIMAL RITES, Evan Dorkin e Jill Thompson, Dark Horse Comics
DAVE STEVENS' THE ROCKETEER: ARITIST'S EDITION, design por Randall Dahlk & edição por Scott Dunbier, IDW
THE MARVELOUS LAND OF OZ, Eric Shanower e Skottie Young, Marvel Comics
TUMOR, Joshua Hale Fialkov e Noel Tuazon, Archaia

 

Melhor tira ou cartum
CUL DE SAC, Richard Thompson, Universal Press Syndicate
DOONESBURY, Garry Trudeau, Universal Press Syndicate
MUTTS, Patrick McDonnell, King Features Syndicate
NON SEQUITUR, Wiley Miller, Universal Press Syndicate
TOM THE DANCING BUG, Ruben Bolling, Universal Press Syndicate

 

Melhor republicação de material nacional
DAVE STEVENS' THE ROCKETEER: ARITIST'S EDITION, design por Randall Dahlk & edição por Scott Dunbier, IDW
THE DARKNESS, Garth Ennis, Marc Silvestri e Batt, Image Comics
JET SCOTT, Jerry Robinson e Sheldon Stark, Dark Horse Comics
LI'L ABNER: THE COMPLETE DAILIES AND COLOR SUNDAYS, edição por Bruce Canwell, IDW
SUPERMAN VS. MUHAMMAD ALI, Neal Adams e Dennis O'Neil, DC Comics

 

Melhor edição Americana de material estrangeiro
AX: ALTERNATE MANGA, edição por Sean Michael Wilson e Mitsuhiro Asakawa, Top Shelf
BLACKSAD, Juan Diaz Canales e Juanjo Guarnido, Dark Horse Comics
IT WAS THE WAR OF THE TRENCHES, Jacques Tardi, Fantagraphics
THE KILLER: MODUS VIVENDI, Matz e Luc Jacamon, Archaia Entertainment
TORPEDO VOLUME 2, Jordi Bernet, IDW

 

Melhor HQ Online
GUNS OF SHADOW VALLEY, David Wachter e James Andrew Clark, http://www.gunsofshadowvalley.com/
GUTTERS, Lar deSouza, Ed Ryzowski e Ryan Sohmer, http://www.the-gutters.com
HARK! A VAGRANT, Kate Beaton, http://harkavagrant.com/
LA MORTE SISTERS, created Tony Trov, Johnny Zito e Christine Larsen, http://www.comixology.com/
PVP, Scott Kurtz, http://www.pvponline.com/

 

Prêmio Especial de Humor nos Quadrinhos
Matt Groening, THE SIMPSONS FUTURAMA CROSSOVER CRISIS, Abrams ComicArts
Roger Landridge, THE MUPPET SHOW, BOOM!Studios
Ryan Sohmer, GUTTERS, http://www.the-gutters.com
Shannon Wheeler, I THOUGHT YOU WOULD BE FUNNIER, BOOM! Studios
Thom Zahler, LOVE AND CAPES, IDW

 

Prêmio Especial por Destaque na Apresentação
DAVE STEVENS' THE ROCKETEER: ARITIST'S EDITION, design por Randall Dahlk & edição por Scott Dunbier, IDW
ODDLY COMPELLING ART OF DENIS KITCHEN Kitchen, Denis Kitchen e Charles Brownstein, edição por John Lind e Diana Schutz, Dark Horse Books
RICHARD STARK'S PARKER: THE OUTFIT, Darwyn Cooke, IDW
SHAZAM! THE GOLDEN AGE OF THE WORLD'S MIGHTIEST MORTAL, Chip Kidd e Geoff Spear, Abrams ComicArts
WEDNESDAY COMICS HARDCOVER EDITION, edição por Mark Chiarello, DC Comics

 

Melhor apresentação biográfica, histórica ou jornalística
75 YEARS OF DC COMICS: THE ART OF MODERN MYTH-MAKING, Paul Levitz, Taschen Books
THE ART OF JAIME HERNANDEZ: THE SECRETS OF LIFE AND DEATH, edição por Todd Hignite, Abrams ComicArts
JERRY ROBINSON: AMBASSADOR OF COMICS, N. C. Christopher Couch, Abrams ComicArts
ODDLY COMPELLING ART OF DENIS KITCHEN, Denis Kitchen e Charles Brownstein, edição por John Lind e Diana Schutz, Dark Horse Books
PORTRAIT OF A SEQUENTIAL ARTIST, directed by Andrew D. Cook, Montilla Presentations

 

Melhor edição ou história
ACME NOVELTY LIBRARY # 20: LINT, Chris Ware, Drawn and Quarterly
ECHOES # 1, Joshua Hale Fialkov e Rashan Ekedal, Top Cow
DAYTRIPPER, Fabio Moon e Gabiel Ba, Vertigo/DC Comics
LOCKE & KEY: KEYS TO THE KINGDOM #1, Joe Hill e Gabriel Rodriquez, IDW
LOVE AND ROCKETS: NEW STORIES, VOLUME 3, Gilbert e Jaime Hernandez, Fantagraphics
POPGUN # 4, edição por D.J. Kirkbride, Anthony Wu e Adam P. Knave, Image Comics
WILSON, Daniel Clowes, Drawn and Quarterly